This is an excerpt of a post of mine, recently published at Haydn Shaugnessy's journal "Hack & Craft".  
Modern Dual Corporate Innovation Management approaches encompass two complementary directions of impact:
Transforming the Core (by largely changing or even disrupting the existing operating model)
Creating the New (by largely changing or even disrupting the existing business model)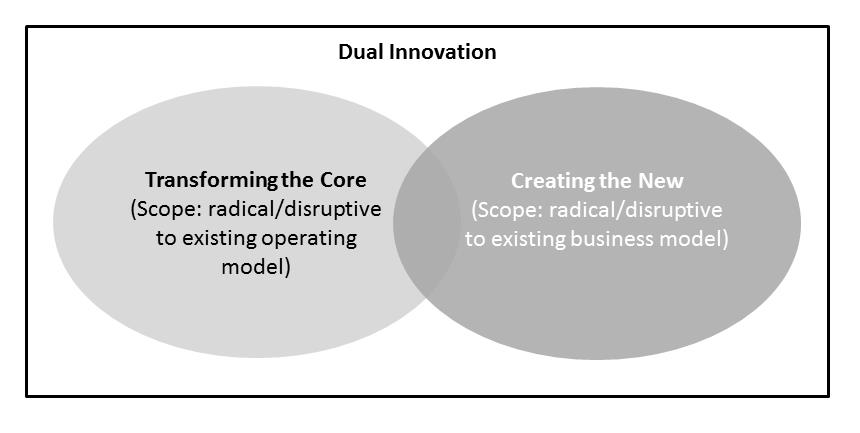 With more and more established companies facing disruptive threats and opportunities, deliberate process and operating model innovation proves to be a major source of competitive advantage.  It resides side by side with business model innovation, i.e. creating novel value propositions, as a complementary – and often underrated – contender.
Disrupting deployed operating models, rather than business models, in particular helps established players to adapt to disruptive conditions by playing defense, i.e. defending their existing business (vs. playing offense by disrupting other industries or themselves).
To sum it up, innovating process models and agilization of operating models towards platforms is to be put higher on the agenda. Those innovations tap into the potential of digitalization and overarching internal collaboration, as also leveraging external ecosystems.
While not being the only lever for companies to stay ahead, they make up a vital part of modern Dual Innovation approaches: Alongside creation of outstanding value it's outstanding delivery of this proposed value that fuels outperforming customer experience and thus makes a difference.
Read the entire post at "Hack & Craft".