Some people I've been collaborating with have recently encouraged me to open up an own blog. After having given it some thought, I decided to do so. I'm launching a new site and platform titled "Integrative Innovation" to share ideas and perspectives on innovation.
You might ask: why "Integrative Innovation"? Is this yet another buzzword?
I don't think so. I rather think integration plays a crucial role when it comes to successful innovation initiatives. I'll share my view on this as well as the intention and purpose behind this new site.
Sustainable innovation management is a complex capability that requires dynamic integration of various aspects. Quite often though, discussions about innovation focus on a selection of factors, such as technology, R&D, customers or processes, without taking the bigger and systemic picture into account. Scott D. Anthony is absolutely right in saying: point solutions do not address a systematic challenge. Instead of following one-size-fits-all or one-sided concepts, integrative innovation approaches are needed for organizations to succeed. The need for integration is manifold – I see at least four major issues in this context:
Integration of Directions of Impact
Integration of Stakeholders
Integration of Capabilities
Integration of People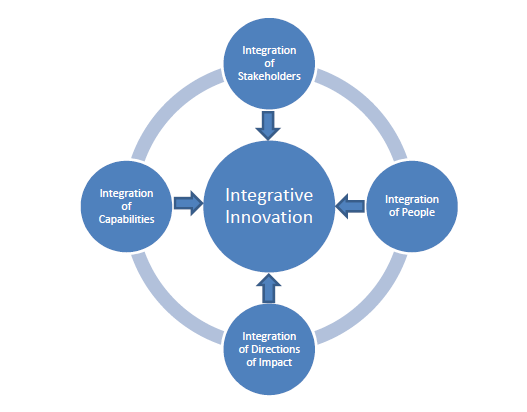 Integration of Directions of Impact
Innovation management requires a balance of different – often opposing – objectives, strategies and approaches. Examples of these tensions are:
Incremental vs. radical innovation
Scale vs. craft
Strategic short term vs. long term focus
Exploiting existing business models/technologies vs. exploring new ones
Structured vs. emergent and experimental processes
It's essential to understand that those opposing poles are inherently different but equally important. Succesful companies and innovation workers in the time to come will be able to operate integratively and balanced, regardless of their individual inclinations.
Integration of Stakeholders
Organizations find it increasingly impossible to tackle innovation on their own. It tends to be accomplished within open partnerships, networks and communities – including customers. In particular, systemic challenges, such as energy, healthcare, mobility depend on successful collaboration among complementary stakeholders. The future will belong to organizations and people that thrive in interconnected ecosystems. Consequently, successful orchestration of diverse stakeholders is going to be a mandatory capability.
Integration of Capabilities
Innovation management is an integrated discipline. It requires working openly across competencies and organizational functions. Thriving operating models don't care about organizational boundaries and functional silos. They integrate functional capabilities to form value-creating, cross-functional capabilities, as Paul Leinwand and Cesare Mainardi point out:
Indeed, mono-functional excellence will almost never guarantee success. The most distinctive, differentiating capabilities are almost always cross-functional. P&G's vaunted ability to launch breakthrough products isn't just a matter of R&D; it requires an integration of competencies, including consumer insights, engineering, external partnerships and brand marketing. Similarly, IKEA's capability in creating and selling stylish but utilitarian furniture combines functional expertise in design, sourcing, manufacturing, packaging, logistics, the design of customer experience in its retail stores, and cost management; all of these reinforce each other.
Integration of People
Innovation management is people management. Depending on the direction of impact, we need to have the right mix of people, skills and mindsets aboard. Particularly, for exploring novel opportunities with a potential to revolutionize the status quo and existing business models, a high diversity of viewpoints and ideas is conducive. This, in turn, implies that innovation workers and leaders act as brokers, integrative thinkers and catalyzers for collaboration. They must be skilled to hire and allocate adequate human resources. Moreover, they have to feel comfortable balancing consent and dissent as well as associating direction and meaning out of people diversity.
In this sense, Integrative Innovation intends to provide a platform for ideas that help tackle the holistic nature of innovation. In face of ever increasing interrelations, we should beware of not seeing the big picture or overemphasizing certain elements. My purpose is to provide value through integrative thinking and concepts as I deeply believe this is imperative for successful innovation management in the time to come.
What other aspects of integration in the context of innovation do you consider important?
Acknowledgment:
Many thanks to Simon Bolz from High5 (Twitter: @HIGH5_FFM) for his excellent support in setting up and launching this site. Danke Simon!