Thomas Edison said it over a century ago: Genius is 1 percent inspiration, 99 percent perspiration. Unfortunately, no one listened. When companies launch innovation initiatives, they typically allot almost all of their time and energy to that initial 1 percent – the thrilling hunt for the breakthrough idea. The real innovation challenge, however, lies beyond the idea. It lies in a long, hard journey – from imagination to impact. Even the best-managed corporations in the world struggle to execute innovation initiatives. This challenge, which we call the other side of innovation, is widely misunderstood. Some companies conflate this side and the other side, believing it is all the same. Others imagine that executing an innovation initiative can't be much different than executing day-to-day operations. Both views are wrong. Innovation execution is neither innovation nor execution. It is its own unique beast.
This is an excerpt from the preface of Beyond the Idea: Simple, powerful rules for successful innovation by Vijan Govindarajan and Chris Trimble. Upon finishing this book, I thought it would be of use to share the book's conclusion. It is boiled down into twelve key lessons learned and proposed basic principles for corporate innovation:
Companies must shift time and energy from this side to the other side of innovation – from a focus on ideas to a focus on execution.
Organizations are not built for innovation, they are built for ongoing operations… and there are fundamental incompatibilities between the two.
There are three powerful models for overcoming these incompatibilities and allowing innovation and ongoing operations to simultaneously thrive. All three models can coexist in a single company, but it is crucial to match each initiative to the proper model. a. Model S, for Small initiatives, attempts to squeeze innovation into small slivers of slack time. It can deliver a very large number of very small initiatives. b. Model R, for Repeatable initiatives, attempts to make innovation as repeatable and predictable as possible. It can deliver an ongoing series of similar initiatives, regardless of their size. c. Model C, for Custom initiatives, is for all initiatives that are beyond the limitations of either Model S or Model R.
Model C has two components: a Special Team and a Special Plan. Each Model C initiative requires its own custom-designed Special Team and Special Plan.
The Special Team is a partnership between two groups of People – a Dedicated Team and a Shared Staff. The Dedicated Team is dedicated full-time or very nearly full-time to just one Model C initiative. The Shared Staff has simultaneous responsibilities for both the innovation initiative and ongoing operations.
The Shared Staff may only take on familiar tasks or tasks that it can learn quickly and readily incorporate into day-to-day operations. Furthermore, the Shared Staff can only take on tasks that fit into existing roles, responsibilities, and workflows. The Dedicated Team must take on all other innovation tasks.
Build the Dedicated Team as though you are building a new organization from the ground up, custom designed for the task at hand. This typically involves hiring outsiders, creating new roles, shaping a new hierarchy, and even creating a distinct culture.
The partnership between the Dedicated Team and the Shared Staff is never an easy one. Keeping it healthy requires a positive and collaborative innovation leader, an engaged senior leadership team, and a Shared Staff that is adequately resourced to do both of its jobs.
A Model C initiative requires a Special Plan, one that is written for disciplined experimentation and rapid learning.
Planning systems for established organizations are designed for administration of ongoing operations, not for disciplined experimentation. Therefore, Model C initiatives need both a separate plan and a separate forum for discussing results.
At the heart of the Special Plan is a clear hypothesis of record, one that lays out the conjectures about cause and effect that connect planned actions with hoped-for results.
Innovation leaders must be evaluated based on criteria that are demanding but distinct from the yardsticks used to assess leaders of ongoing operations. Innovation leaders must be evaluated based primarily on how well they run a disciplined experiment.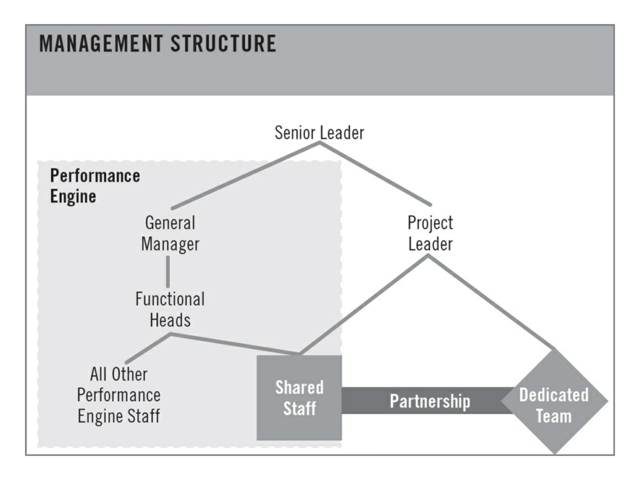 Source: Beyond the Idea: Simple, powerful rules for successful innovation