PwC has released the 2013 issue of their Global Innovation Survey, titled 'Breakthrough Innovation and Growth'. One of the main outcomes is that there is a clear correlation between innovation and growth. 93% of the executives surveyed indicate that organic growth through Innovation will drive the greater proportion of their revenue growth. Only 2% of companies expect their growth to be mainly inorganic (i.e. M&A-driven). Leading innovators can expect significant rewards both financially and in terms of competitive positioning, according to the study.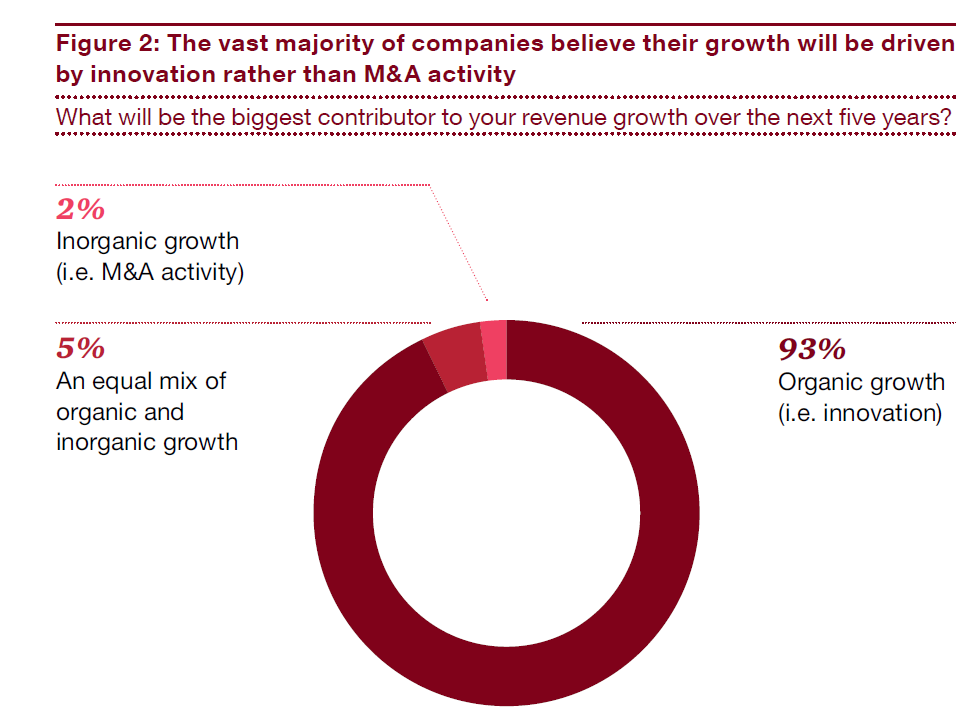 The survey's conclusions and key takeaways are summarized as a list of questions, being highly relevant for all firms that aim at keeping in and ahead of their game. I'd like to recap them here as they strongly resonate with my view:
1. Are you paying enough attention to innovation? Innovation is quickly moving up the agenda for all businesses, becoming a competitive necessity and the main driver for growth. When was the last time that innovation was discussed at your management board?
2. Do you have an innovation strategy? Innovation needs to be thought of as process which can be disciplined. A coherent innovation strategy aligns all elements of an organisation to its corporate goals. How do you plan to harness innovation to accelerate growth?
3. Is your innovation portfolio right? Innovation portfolios are evolving, including a greater proportion of breakthrough, radical, and non-product innovation and a much broader range of areas to innovate. How well-balanced is your portfolio and where are you prioritising your innovation resources and investments?
4. What is your innovation timespan? Companies too focused on the short-term never challenge existing thinking, while those too focused on the long-term overlook immediate delivery. A balanced perspective is needed. Are you creating the business of tomorrow while running the business of today?
5. Is innovation an integral part of the executive and organisational mindset? Are operational efficiency and innovation metrics part of all management meetings? Are the resources, investments, processes, organisation and governance sufficient to provide the space for innovation to thrive?
6. Do you know how to explore and find the really great innovations that drive unprecedented levels of growth? Is exploration something that people are incentivised to do? Do the innovation processes use leading practices to ensure high speed prototyping, exploration, and learning?
7. Are you an innovation blocker or enabler? Executives too comfortable with the status quo are one of the greatest barriers to greater innovation. Do you have the mechanisms in place to commercialise and scale your innovations? The last mile of turning innovations into significant revenue growth is often the hardest.
I recommend reading the entire study report here. Coincidentally, Paul Hobcraft has posted a more detailed summary of the study – you can check it out here.